May 30, 2022
ASEZ WAO honored with Green Apple Award and Green World Award
Appointed as Green World Ambassadors, they work hard for environmental sustainability
ASEZ WAO, Young Adult Worker Volunteer Group of the Church of God World Mission Society, was honored with Green Apple Award and Green World Award–the prestigious awards officially recognized by the European Union and the UK Environment Agency.
These awards are organized by the Green Organization–an international environmental nonprofit organization, and bring out excellent examples of environmental activities and support them. The Green Apple (Environmental) Awards were launched in 1994 and have now extended into the Green World Awards. Experts in relevant areas evaluate environmental activities, based on nine factors, including innovation, commitment, social benefit, and planning for future development, and select final winners.
The awards ceremony was held at the Royal Horseguards Hotel in London on November 15. The atmosphere at the awards ceremony was even more magnificent than ever, as the 2021 Awards Ceremony was held together with the 2020 Awards Ceremony that had been postponed due to the COVID-19 pandemic. This year marks the 26th Session of the Conference of the Parties [COP26] to the United Nations Framework Convention on Climate Change [UNFCCC], and so more people than ever before are concerned about the environment. That's why this year's awards are even more meaningful.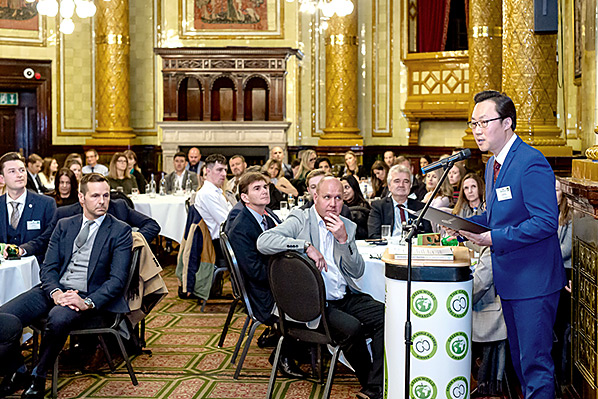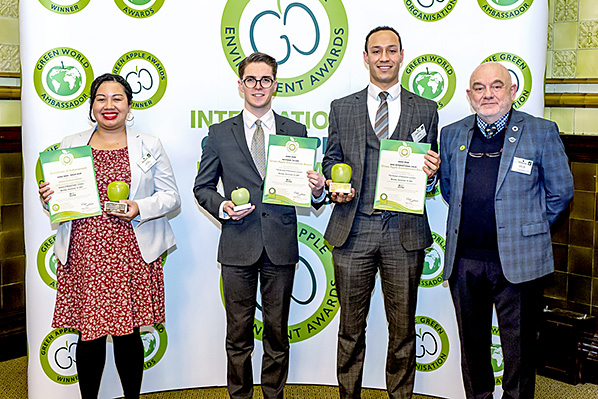 ASEZ WAO won Green World Gold Award 2020 and Green Apple Gold Award 2020 and was appointed as the Green World Ambassador. Furthermore, ASEZ WAO was also honored with Green Apple Silver Award for Environmental Best Practice 2021. In the year of 2021 as well, ASEZ WAO was honored with the Green World Award and was appointed as the Green World Ambassador; and the award ceremony will be held in the spring of 2022. "No More GPGP" project aiming to raise awareness of plastic waste and the "Green Workplace" project aiming to save energy and water at work, were rated highly.
The "No More GPGP" project aims to collect around 80,000 tonnes of plastic waste by 2030, delivering the message, "No More Garbage Patches!" By the first half of this year, this project has been conducted more than 710 times in 27 countries, including the United States, the United Kingdom, Peru, Argentina, Australia, Rep. of South Africa, Mozambique, Philippines, and Cambodia. Besides, through campaigns, seminars, and forums, ASEZ WAO promoted community awareness and participation, and continued their activities by signing MOUs with central government agencies, local authorities, and many other organizations. Impressed by the members' youthful passion and energy, people from all walks of life give them encouragement through supporting signatures.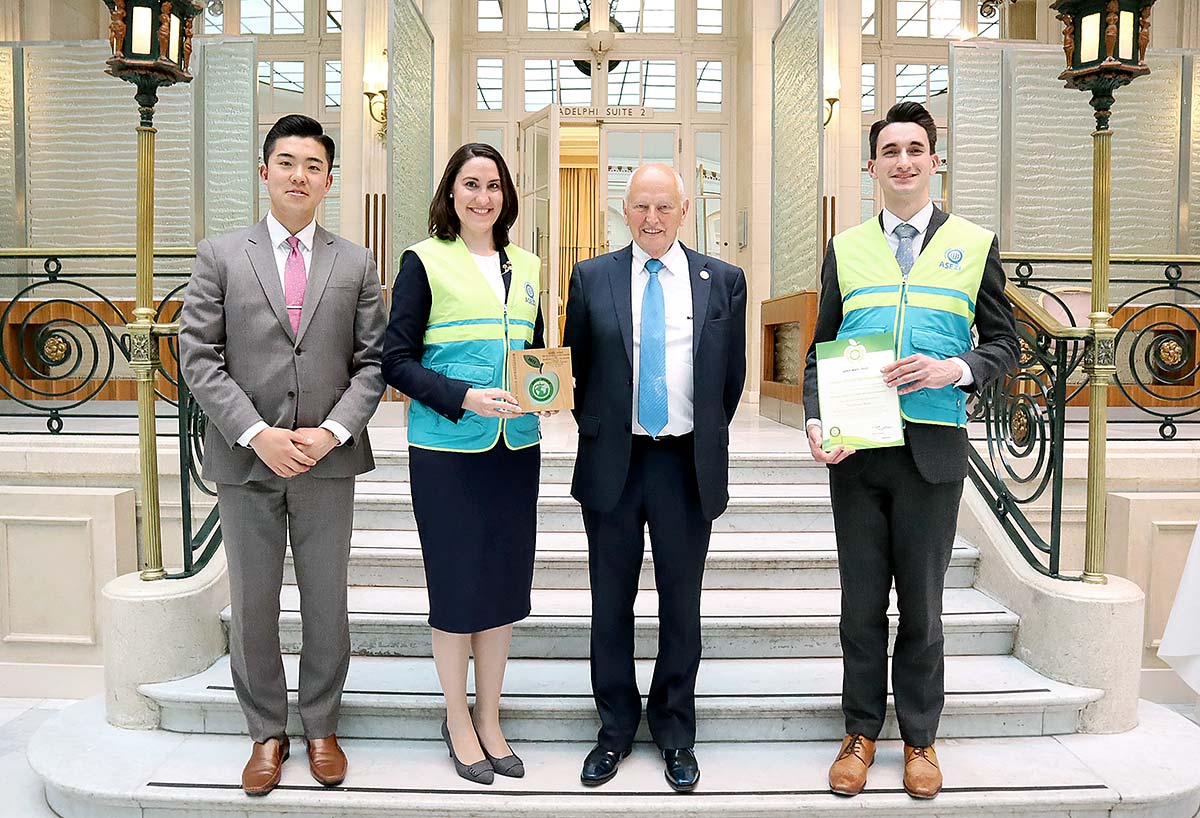 At the awards ceremony held on the day, people from all walks of life, including Green Organization CEO Roger Wolens and Environmental Activist Phil Williams, were present and supported the Church of God young adults with their love for the environment, through supporting signatures. Roger Wolens gave a compliment, saying, "These organizations, which are made up of young people, have developed several programs to give ideas to numerous young people around the world through their volunteer services and networks."
Bradley Lawton, a member of ASEZ WAO, shared his impression, saying, "ASEZ WAO members have been doing volunteer services with sincere love and unity. They will constantly carry out diverse activities, such as environmental cleanups and awareness raising seminars in order to respond to climate change. Shakira Thomas said, "I want to educate young students, who will lead the future, about environmental problems and raise their awareness. It is also very important to help them make an effort to preserve the environment for our future."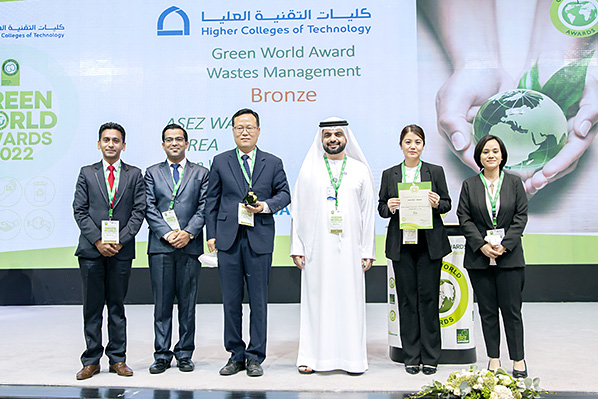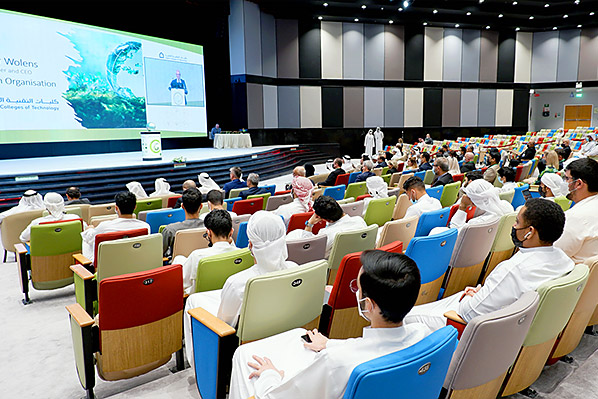 ASEZ WAO has been carrying out various volunteer services, apart from environmental cleanups. "Heart to Heart" campaign was for delivering handwritten letters of gratitude and snack packages to professionals and organizations that took the trouble to prevent the spread of COVID-19. The campaign was held over 180 times in six metropolitan cities of Korea alone, and overseas, it was held over 90 times in 12 countries overseas. In addition, they helped with conducting flood relief efforts in Illinois, the U.S.; Maharashtra, India; and Gwangju and Gurye-gun in Jeollanam-do province, Korea. They also planted over 4,000 saplings in 11 countries, including Korea. Since this activity is carried out in cooperation with each local government, it is expected to have great impact on the sustainability of the earth environment and combating climate change.