November 28, 2022
ASEZ WAO Carries Out Mother's Forest Project at Mt. Oseosan, Korea, for Restoring Earth
ASEZ WAO Spreads a Good Influence on the Community by Planting 1,000 Trees in Mt. Oseosan
During clear autumn season, on a holiday of November 28, 2021, 104 ASEZ WAO members from South Chungcheong Province, Korea, carried out Mother's Forest Project by planting 1,000 trees in the Oseosan Mountain which borders Boryeong, Hongseong, and Cheongyang in South Chungcheong Province on a holiday.
Mother's Forest Project is part of ASEZ WAO campaign that aims to green the earth by planting one tree per person in order to reduce greenhouse gas emissions. After the COVID-19 pandemic, ASEZ WAO members joyfully climbed up the Oseosan Mountain which measures 790 meters [2,592 ft] above sea level to plant trees. First, they leveled the ground and dug the soil. Then, they spaced out the saplings, planted them in the soil, and watered them so that they could take deep root and healthily grow.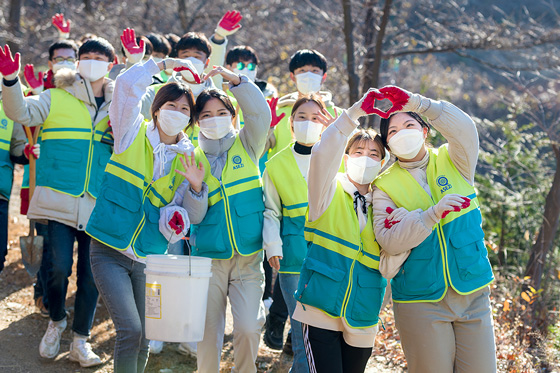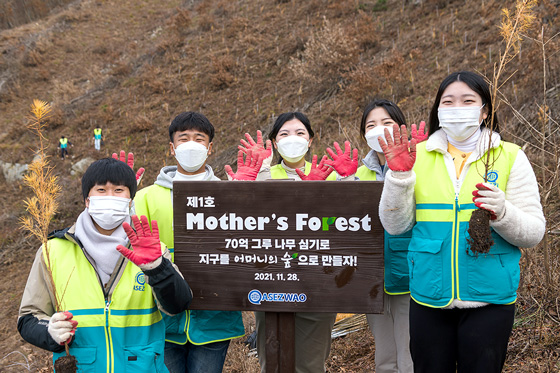 Kim San-mi, an ASEZ WAO member, expressed her wish, saying, "I was out of breath while climbing up the steep mountain. However, thanks to the young adult workers who joined this activity, I felt energized. Only when there are many trees, dense forests can be created, which benefits the ecosystems by purifying the air. I will help maintain this virtuous cycle." Jeong Su-yeon, another ASEZ WAO member, said, "If we continue to carry out Mother's Forest Project, all our efforts will greatly help build a healthy earth in the future."
According to data from Korea Forest Service, larch forests can absorb 8.9 metric tons of carbon dioxide per hectare in a year and they emit 6.5 metric tons of oxygen. Trees that are over 100 years old can absorb 10 times more carbon dioxide than trees that are 40 to 80 years old. If a tree grows and forms dense forests, it can bring about extensive, positive effects such as reducing carbon dioxide emissions and creating environments habitable for various animals and plants.
ASEZ WAO will continue to create a green earth through various projects and campaigns, such as Mother's Forest, No More GPGP, and Green Workplace.