January 28, 2019
Henry Fernando López Cantorin, Mayor of Huancayo, Peru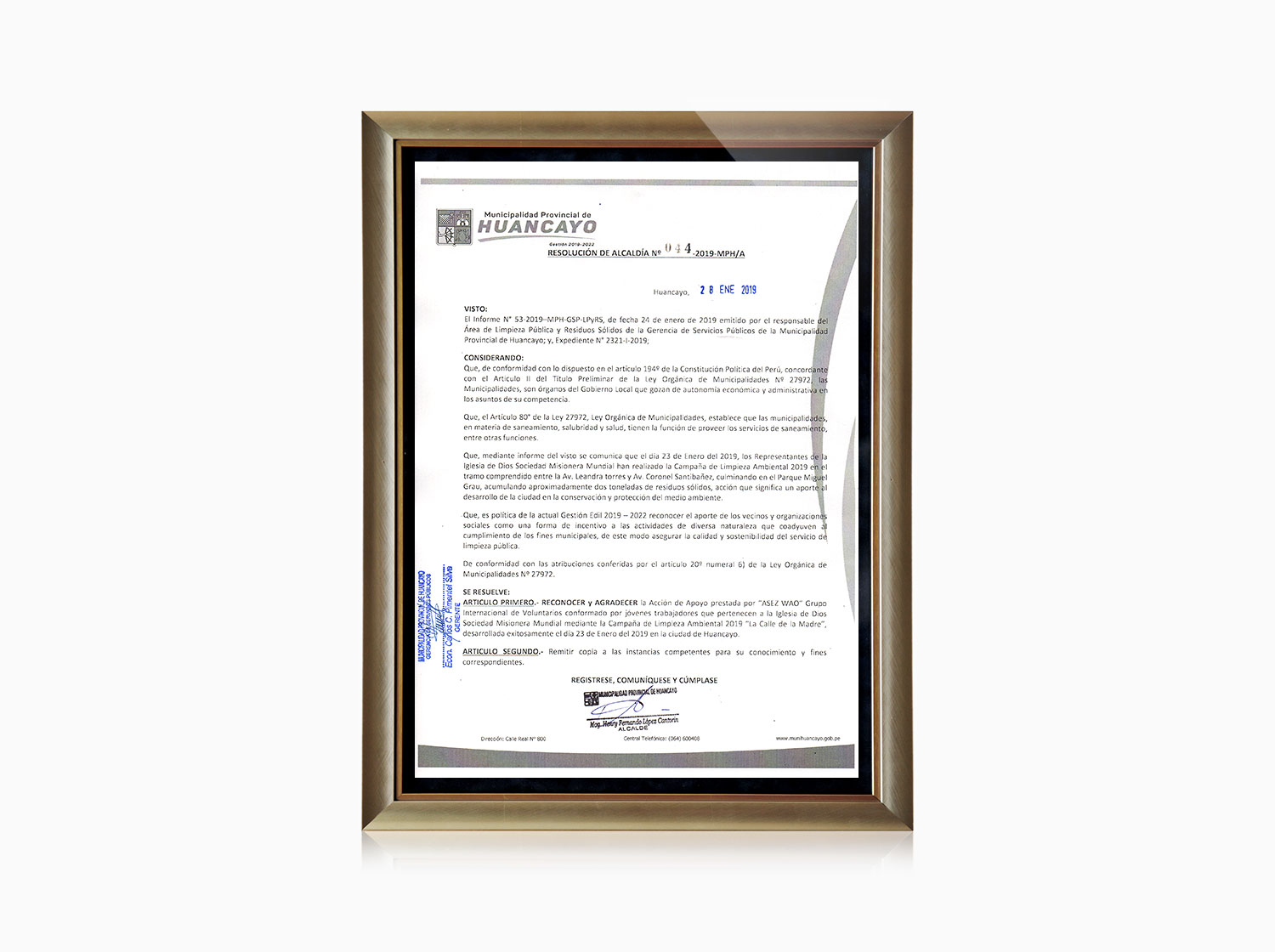 Citation
Viewed:
Report No. 53-2019-MPH-GSP-LPyRS, dated January 24, 2019 issued by the head
of the Public Cleaning and Solid Waste Department of the Public Services
Management of the Provincial Municipality of Huancayo; and, File No. 2321-I-2019;
considering:
Under Article 194 of the Political Constitution of Peru, in accordance with Article II
of the Preliminary Title of the Organic Law on Municipalities, Law No. 27972,
the Municipalities are bodies of the Local Government that enjoy economic and
administrative autonomy in matters within their competence.
Article 80 of Law 27972, Organic Law of Municipalities, establishes that
municipalities, in terms of sanitation, healthiness and health, have the
function of providing sanitation services among other functions.
According to the report mentioned in the Viewed, on January 23, 2019, the
Representatives of the World Mission Society Church of God have carried out the
Environmental Cleanup Campaign 2019 in the section between Av. Leandra Torres
and Av. Coronel Santivañez, culminated in the Miquel Grau Park, and
accumulated approximately two tons of solid waste. It contributed to the
development of the city in the conservation and protection of the environment.
It is the policy of the current Mayor's term 2019–2022 to recognize
the contribution of neighbors and social organizations that have carried out
eco-friendly activities to help achieve the fulfillment of municipal purposes,
thus ensuring the quality and sustainability of the public cleanup service.
In accordance with the powers conferred by Article 20 Section 6 of the
Organic Law on Municipalities No. 27972.
It is resolved:
First Article: We recognize and thank the support provided by "ASEZ WAO"
the International Volunteer Group formed by young adult workers
who belong to the World Mission Society Church of God through an
Environmental Cleanup Campaign 2019 called the "Mother's Street,"
successfully held on January 23, 2019 in the city of Huancayo.
Second Article: Send copy to the competent authorities for your
knowledge and corresponding purposes.
REGISTER, COMMUNICATE AND FULFILL
2019-01-28
Henry Fernando López Cantorin,
Mayor of Huancayo, Peru