December 5, 2019
Eric L. Adams, Borough President of Brooklyn, NY, U.S.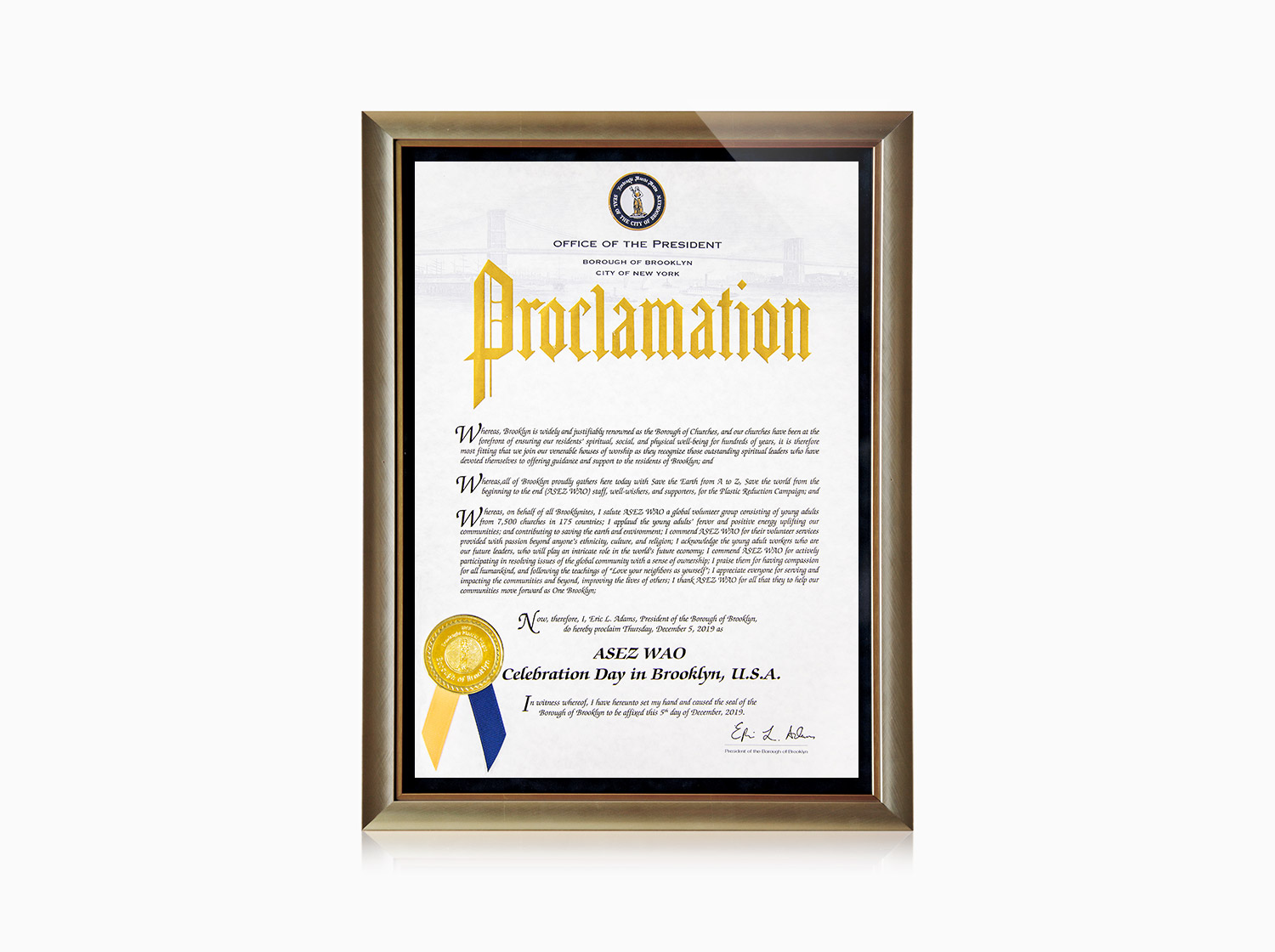 Proclamation
Whereas, Brooklyn is widely and justifiably renowned as the Borough of Churches, and our churches have been at the forefront of ensuring our residents' spiritual, social, and physical well-being for hundreds of years, it is therefore most fitting that we join our venerable houses of worship as they recognize those outstanding spiritual leaders who have devoted themselves to offering guidance and support to the residents of Brooklyn; and

Whereas, all of Brooklyn proudly gathers here today with Save the Earth from A to Z, Save the world from the beginning to the end (ASEZ WAO) staff, well-wishers, and supporters for the Plastic Reduction Campaign; and

Whereas, on behalf of all Brooklynites, I salute ASEZ WAO a global volunteer group consisting of young adults from 7500 churches in 175 countries; I applaud the young adults' fervor and positive energy uplifting our communities; and contributing to saving the earth and environment; I commend ASEZ WAO for their volunteer services provided with passion beyond anyone's ethnicity, culture, and religion; I acknowledge the young adult workers who are our future leaders, who will play an intricate role in the world's future economy ; I commend ASEZ WAO for actively participating in resolving issues of the global community with a sense of ownership; I praise them for having compassion for all humankind, and following the teachings of "Love your neighbors as yourself"; I appreciate everyone for serving and impacting the communities and beyond, improving the lives of others; I thank ASEZ WAO for all that they to help our communities move forward as One Brooklyn;

Now, therefore, I, Eric L. Adams, President of the Borough of Brooklyn, do herby proclaim Thursday, December 5, 2019 as

ASEZ WAO Celebration Day in Brooklyn, U.S.A.

In witness whereof, I have hereunto set my hand and caused the seal of the Borough of Brooklyn to be affixed this 5th day of December, 2019.
2019-12-05 Eric L. Adams, Borough President of Brooklyn, NY, U.S.